Para leer esta entrada en Español, aquí
To read this post in Spanish, here
Here you have the first story in the category » How is life in…?«.
This is the story of Helen's family. They are very special for me as I lived a very important year in my life with Helen. This is a 5 member family who live in Normanton (England).
Firstly, I would like to congratulate them for the arrival of the new member in their cute family (when Helen wrote this, he still was inside the belly :-D). And I really want to say THANK YOU to share their lives with us. She was the first one in participating and here you have the first story!!!!
Helen…I hope to see you again soon! And congratulations for that fantastic family you have. Thank you.
-o-
Hello everyone!
We are: Dale Gidman, 42, born in Normanton, Helen Gidman, 32, born in Beverley, Sarah Gidman, 16, born in Ormskirk, William Gidman, 3, born in Pontefract. ALso, baby on way, due 14th March. We live in Normanton, England, we have been living there together for about 8.5 years although Dale has lived there most of his life. We both work in York which is 30 miles (around 50 km) away from where we live. We drive to work as there are no straightforward train routes. Sarah goes to school in Normanton and William goes to Nursery in York but he will start school in Normanton in September 2012. We work Monday to Friday 9am till 5pm.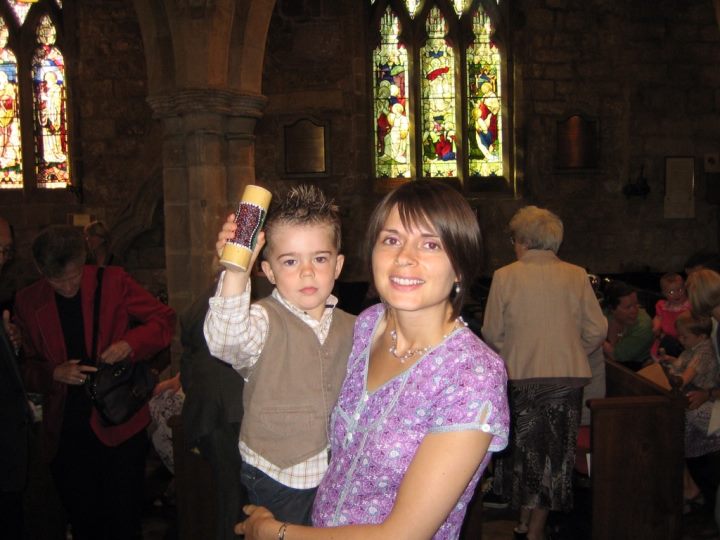 A normal day in my life…
On a normal working day, we get up early (around 0630) and get ready to leave the house around 0745 to travel to work in York and to drop off William at Nursery. Sarah gets up and goes to school, her school starts at 0830. We arrive at Nursery around 0820 and then travel on in to work to arrive just before 0900. At 1700, we leave work and pick William up before nursery closes at 1800. We then travel home, put William in the bath, cook the tea, put William to bed, watch a couple of hours of TV then go to bed ourselves. Our weekdays are always the same as we have to be in certain places at certain times.
Pregnancy and maternity leave…
I have worked throughout my pregnancy, I am finishing work at 37 weeks 2 days pregnant.
My job is office based and I am mostly sitting at a desk on a computer so there have not needed to be any changes to my role. I had a safety risk assessment carried out but I had to request it myself and it only took place when I was 32 weeks pregnant. However, there were no changes needed to the way I work. You can work as late as you like before the baby is due and you could decide to work until you have the baby. If you did that, your maternity leave would start on the day you gave birth. 
At my company we are paid for the first 6 weeks of our maternity leave at full pay. After this time, we do not receive anything from the company but we are entitled to a further 30 weeks statutory maternity pay from the government. Effectively we can receive some form of payment for 9 months of maternity leave. We are permitted to take 12 months maternity leave in total but the final 3 months are on no pay. The statutory maternity pay isa round £400 per month (500€ aprox.)
After the birth the mother is visited by a midwife and health visitor at home a few times in the first few weeks. After this time, the mother can take the baby to a clinic to be checked and weighed at regular intervals. There are mother and baby groups in the area which you can go to if you want to meet other new mums. None of these things require payment, they are funded by the NHS (National Health Service).
Usually the Dads are permitted 2 weeks paternity leave and pay depends on the company they work for as different companies have different policies.
Going back to work…
I will be returning to work full time in January 2013. I did this after my first child and expect to do the same again. I think it will be harder going to work full time with 2 small children, especially as William will be at school near where we live and the baby will be at nursery near where we work. I believe if I wanted to reduce my hours, my company could accommodate this but I would probably have to change my role to a lower grade. Currently I manage a team of people and I don't think it would be possible to continue this role on a part time basis. It won't be until I return to work that I will know how things will work out.
About nurseries and school…
Our baby will go to nursery in York full time (5 days per week from 0800-1800). Babies can start at the nursery from quite Young, I think 3 months old but our baby will be around 10 months old when he starts there. You have to book places a long way in advance, I have already booked a place for January 2013. The nursery is prívate and is expensive, for full time care it will costa round £800 per month (almost 1000€ /month). We have no other options as family are unable to help us.
School starts the September after a child becomes 4 years old. Schools are public unless the parents prefer topay for prívate. Parents have to pay for things like dinners and before and after school clubs but all the teaching is funded by the government. Children go to school 5 days a week (Monday to Friday) from about 0900 to 1530 from the age of 4 till 16. For us, the school is near where we live so if we are not working we can walk there but when we work we will have to drop William off in the car at a breakfast club (before school) then we would have to pick him up later from an after school club. It will be difficult to combine with our work given that our work is quite a long way from home. The before and after school clubs are a big help though. 
Children in England usually don't learn a language till they go to high school at the age of 11.
Problems and solutions at work…
It can be a problem when you are at work and your child is sick as you have no option but to take time off work. Sometimes your work are sympathetic and allow you to work from home but other times you may have to take the time as holidays.
Also for us the travelling to/from work can be a problem if we come across traffic problems, it can lead us to being late for work or being late home from work. This will be more of a problem when William goes to school if we cannot get home in time to pick him up from the after school club.
Options to combine personal life and work…
It depends on your choice of work. I choose to work a 9 to 5 Monday to Friday job so that I have my weekends free from work to spend with family. Other people may work unsociable hours but that may suit them as they can Split childcare with their partner but it will mean they don't get to spend a lot of time together as a family.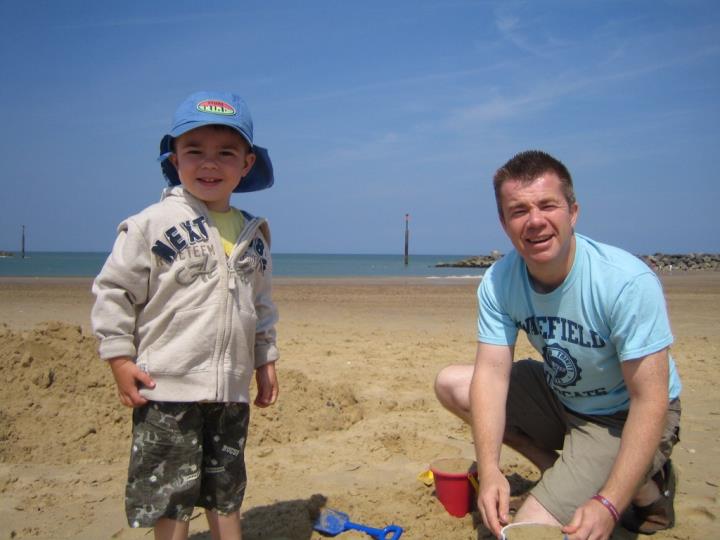 Points I like the most/don't like; I would change; I miss…
Probably the only thing I don't like is the pay we receive for maternity leave as it is not enough but this does depend on your employer as some companies pay very good maternity pay. My company policy is not good. I think I like everything else, I am happy with the healthcare we receive and the options we have for childcare.
About health system…
I think our health service is very good, especially the maternity care. We have regular appointments with our midwifes during pregnancy and have the option to give birth in a hospital or at home, whichever we prefer. We don't pay for healthcare unless we want to go prívate for prívate treatment (which would happen much quicker) than on the national health system.
About work…
I think at this moment in time it is quite difficult to get a decent job in this country. I am lucky as my job with the railway is reasonably secure and I have been working for the same company for the past 10 years. I think it is more difficult for young people who have just left university to get work.
As a family we are ok as both our jobs are secure but other families are suffering a lot. A lot of people have lost their homes because they lost their jobs and couldn't keep up with mortgage payments.
In general I think life is good, especially when you compare to other countries which have more severe financial crisis and of course third world countries.
Travelling with kids…
We always travel with our kids but we only ever travel in England, we have never been abroad with the children. On holiday as that is when they are most excited, we have been to Center Parcs a few times and William loves it there.
I think sometimes my country is child friendly, I think the reason why we like Center Parcs so much is because it is very child friendly there. We mostly know the places we can go to with children and avoid places which we know will not be child friendly.
(March, 2012)
Thank you Helen! 
I encourage you to contact me to write about how is life in your country!!!!! How do you live, combine personal life&work, what activities you like…Your life is unique!
Para leer esta entrada en Español, aquí
To read this post in Spanish, here